New Patient Reviews
Dr. Cook is very professional as well as friendly and helpful with answers to my questions and explanations of procedures. Pains and aches have lessened, my general health has improved since I've been treated by her! ~Sr. Mary B.
---
Dr Cook offers so much more than just chiropractic care. She helps me to work, sleep, and live more comfortably with her suggestions . ~Becky O.
---
I would like for the world to know that you have been an excellent asset to my physical, mental, emotional and spiritual health. Something I cannot say about anyone else. Thank you for your knowledge, expertise, caring, support and friendship! ~Julie F.
---
Excellent care over the years! ~Robert B.
---
Dr. Cook has been absolutely fabulous in correcting my issues and making sure I know preventive measures to help on my own with them. ~Allison G.
---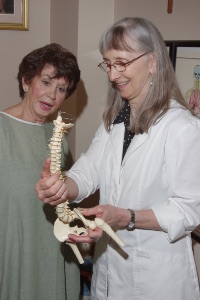 Contact our Dayton office today to learn more about how Dr. Cook can help you.
---
Patient Reviews | Chiropractor Dayton | (859) 431-3624